Welcome to Sports Car Salvage. We are a niche hobbyist sports car dismantler located in Northeast Ohio, selling parts for C4 & C5 Corvettes, Mazda Miatas, and other sports and performance cars. We also restore diamonds in the rough. Let us help you with your restoration project.
December 3, 2016 | Posted in Family, Shop Time | By fastwrecks
….Not parting out another SUV.
After acquiring a series of collections of already parted out vehicles and consignment lots over the past year, I was itching to dust off my large collection of 10mm sockets and wrenches and part something else out.
Enter this 1987 Toyota Supra MK3 A70, which we got shortly before Thanksgiving.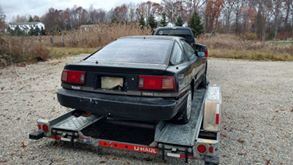 It has a blown motor and had sat for 5 years before we got it to part out. Fortunately, most of the other parts so far appear to be in very good shape. It has a black exterior, gray cloth interior, 180K miles on the drivetrain, and most of the electronics work. It's 90% parted out right now. Our eBay store has a new category for the Supra parts, which I am adding to every day.
2016 has been a very productive year for us, both at home and around the shop. We're hoping that 2017 is even better!
October 22, 2016 | Posted in Family, Humor, Shop Time | By fastwrecks
In short, a lot.
You may have noticed that I haven't written a blog post since April. Much has happened since then.
We got the second load of Porsche 914 parts in May, which I am still working my way through. There are still a few things to retrieve (mostly glass) but, for the most part, it's in my workshop. I have seats, gauges, interior parts, assorted relays and modules, steering parts, a transmission, and much more. Visit our eBay store to see what we currently have listed. There is more being listed every day.
In June, we got two more goats. Tiara and Thompson were born in March of this year. They are Kinder goats (a cross between pygmy and Nubian goats) and are, of course, extremely adorable. Tiara will be old enough to breed next Fall. Thompson is her brother. We adopted them both so they could pal around together – Goats tend to pair up and we figured it would be good for them to have a similar age/size companion.
July and August brought lots of gardening and outdoor adventures. We even started a new Facebook page to showcase our homestead adventures: https://www.facebook.com/witzendfarm/?fref=ts
Our nearly 1000 square foot garden was planted with mostly tomatoes for canning. This was the first summer that we had the goats, so mowing the yard was just a run of the mill chore, not an all-day project like last year. 2 acres is a LOT to mow and weed eat. When it wasn't too hot to be at my workshop, we waded our way through Porsche 914 parts, tinkered with our 1985 Mercury Capri, and took in a few valuable consignment items. Our friends at AutoInterests had some assorted Mustang, Taurus SHO, and Jeep parts that they consigned to us to sell. You can find them in our Assorted New and Used Auto Parts category on eBay.
September was warmer than normal, so we enjoyed our swimming through the end of the month, more gardening, canning, and of course, garage time. Around this time, we started expanding our fenced area at home in anticipation of (surprise, surprise!) two more goats. They arrived at our farm a couple of weeks ago. Elliott is a 100% ABGA registered purebred Boer buck and his companion Blondie is a Boer/Alpine cross. He dwarfs all of the other goats at approximately 200#.
That's our past few months in brief. Here in the next few days, we will be receiving a Ford Escape to look at, plus I have been perusing our collection of automotive magazines and listing them in amongst the other parts. 2016 has been a very productive year for us all around and I hope to continue the trend.
April 29, 2016 | Posted in Uncategorized | By fastwrecks
I once had an empty garage bay. That was the most boring 15 minutes of my life.
In anticipation of another load of parts, I'd been making room in my incoming work area. What I ended up with was not what I was originally expecting, which was another run of Porsche 914 parts.  (That's still on my agenda, by the way)
A friend of ours wanted to consign some 1999 Chevy Blazer 4 Door parts. We got a few boxes of mirrors, lights, interior switches, some 4.3L engine parts, and all of the glass from the vehicle except for the windshield. Everything appears to be in really nice shape, and I'm still working my way through the items. We even have our own store category for it.
But wait, there's more!
Around this same time, we found a great deal on a 1995 Honda Civic plus an extra set of wheels. We were mainly interested in the wheels, as a friend of ours who is selling a Civic wanted the upgraded set. The car runs nicely, although it has some shifting issues at the moment. It does a really nice job of going forward….The rest, not so much. I'll take the fact that I was able to drive it into the garage as a plus. This is my next project.
Can you believe I used to have one just like this? This was before I had a business, a family, and animals. Somehow I don't think I'd be too comfortable with a husband, an array of large packages, 4 goats, and a crate full of chickens in this.
Speaking of goats, I did mention an obligatory goat picture, didn't I? Our friends have baby goats, including this cutie pie, Munchkin.
February 5, 2016 | Posted in Porsche | By fastwrecks
The Toyota 4Runner shell left this garage a little bit before Christmas. It wasn't too long after that that we acquired several new large shelves on wheels. I was able to do some serious organizing and consolidating. I present to you Exhibit A, the empty and clean garage bay.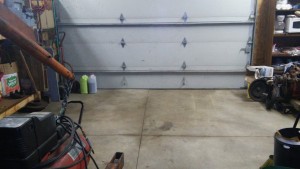 No better time for something completely new to come together, right? We'd finalized a deal to pick up a large lot of Porsche 914 parts shortly after acquiring the 4Runner. The Porsche 914 was a 1970s two-seater roadster made collaboratively by VW and Porsche. Here is an example of what it looks like in nice, running, restored shape. (This is not mine, by the way.)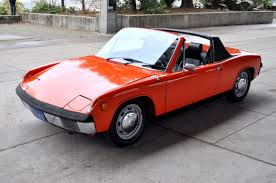 Here is an example of what they look like apart: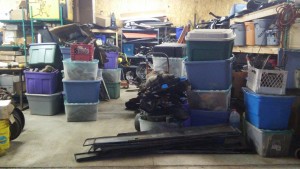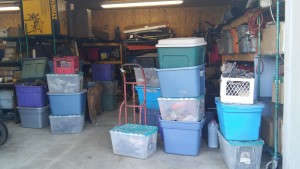 Our most recent Sunday started very early, before the sun came up. I was greeted at our gate by 4 very confused goats who are used to getting their food, water, and goatly love mid-morning. The rest of our day consisted of traveling, loading the truck and trailer, finding a bite to eat, and locating a hotel for the night before heading back Monday morning. The above array of totes and piles of parts filled our truck bed plus a small trailer. Remember the nice clean garage bay from earlier? It is now nearly full. We picked these up this past weekend and have begun listing them on eBay. Believe it or not, this is only a fraction of the parts and there are at least 2 more loads this size. A lot of the parts aren't made anymore, so what is still in circulation is popular with collectors and restorers. Once I've organized, catalogued, and listed what we have, it will be time to get the rest. What a great start to 2016!
January 4, 2016 | Posted in Pontiac, Shop Time | By fastwrecks
We came across these T-tops from a third generation (1982-1992) Pontiac Firebird. They had been painted over once upon a time, and had been left in a garage for quite a while. The latch mechanism needed some WD-40, but this paint just….needed to go. It was extremely faded and worn out, especially around the edges.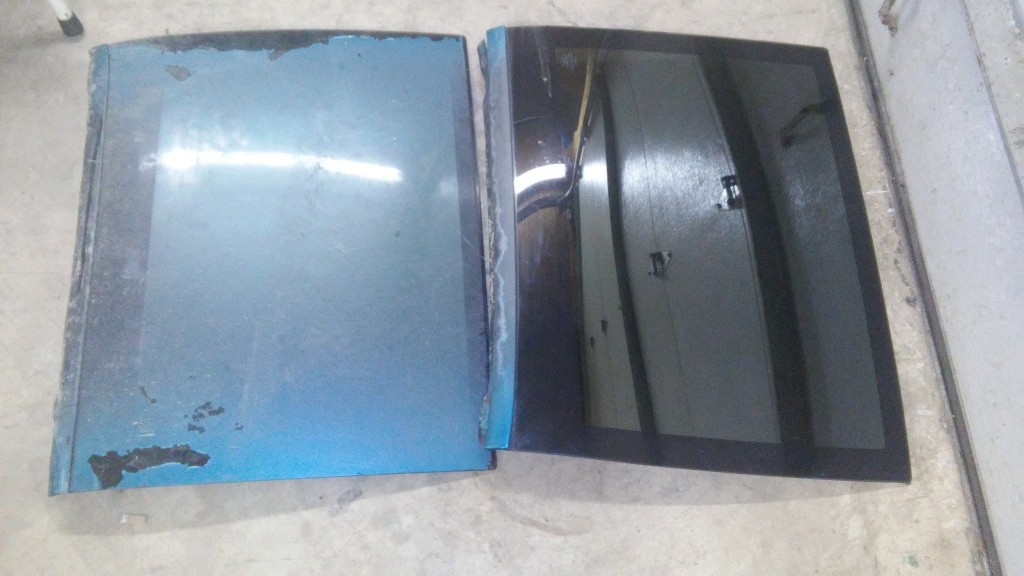 I watched some Youtube videos on how to remove paint from glass. I decided I'd try the razor blade method because I have plenty of those on hand. You won't scratch up the glass doing this! The razor functions similar to an ice scraper. After verifying that the T-tops are actually glass, not acrylic plastic, I sprayed some Goof Off spray on the paint and let it soak in for a few minutes before starting anything. (Side note: some removable tops are made of acrylic. Goof Off specifically says in its instructions not to use it on that kind of material.)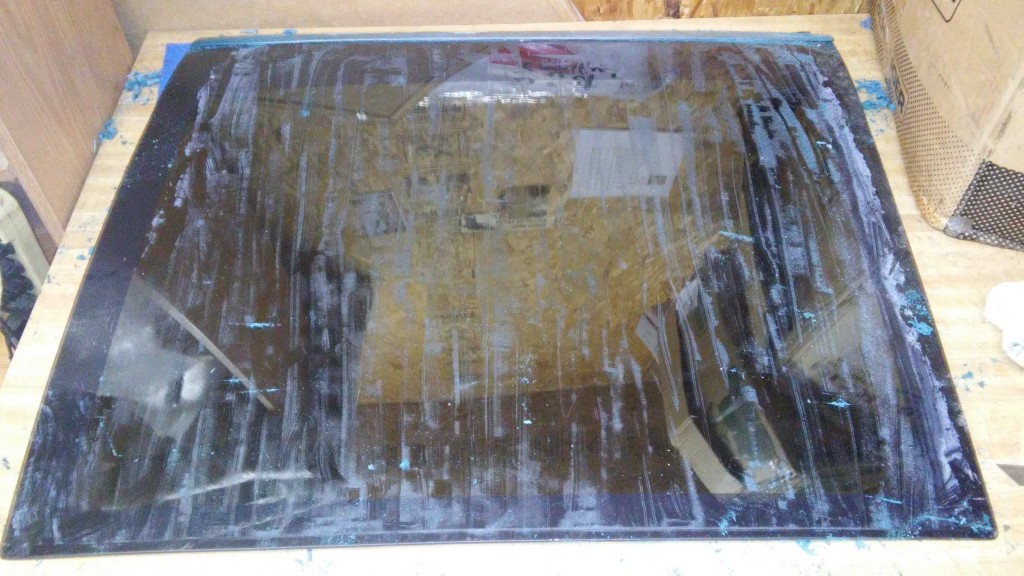 This is after getting the majority of the paint off. At this point, I sprayed some more Goof Off to soak into the white residue. I then took the razor blade and scraped in the opposite direction as I did on the first pass.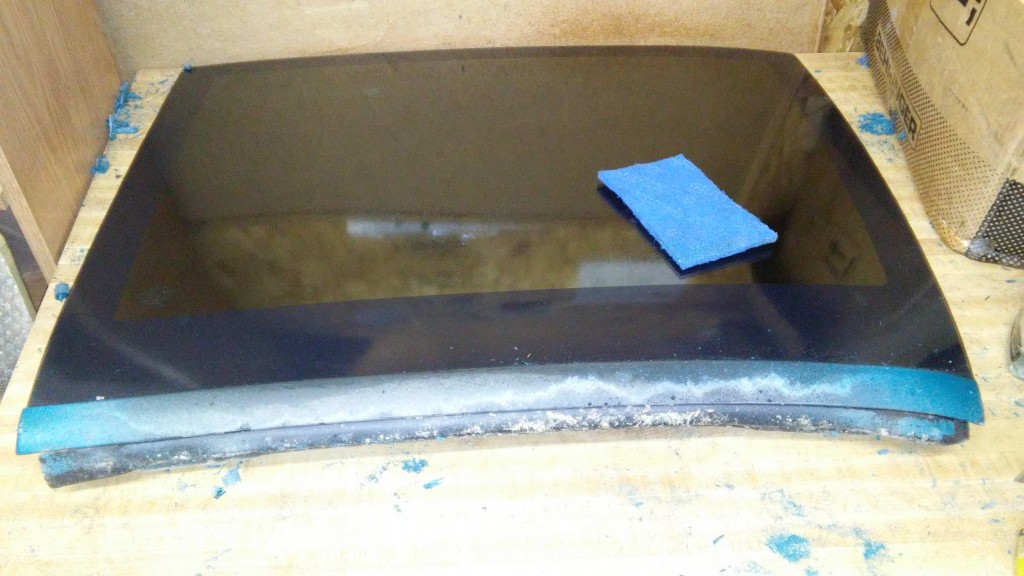 After the second go-round, I cleaned off the glass with glass cleaner to see what was left. At this point, a little Goof Off and blue Scotch Brite removed the little bit that was left.  The photo is not blurry – Goof Off is working its magic.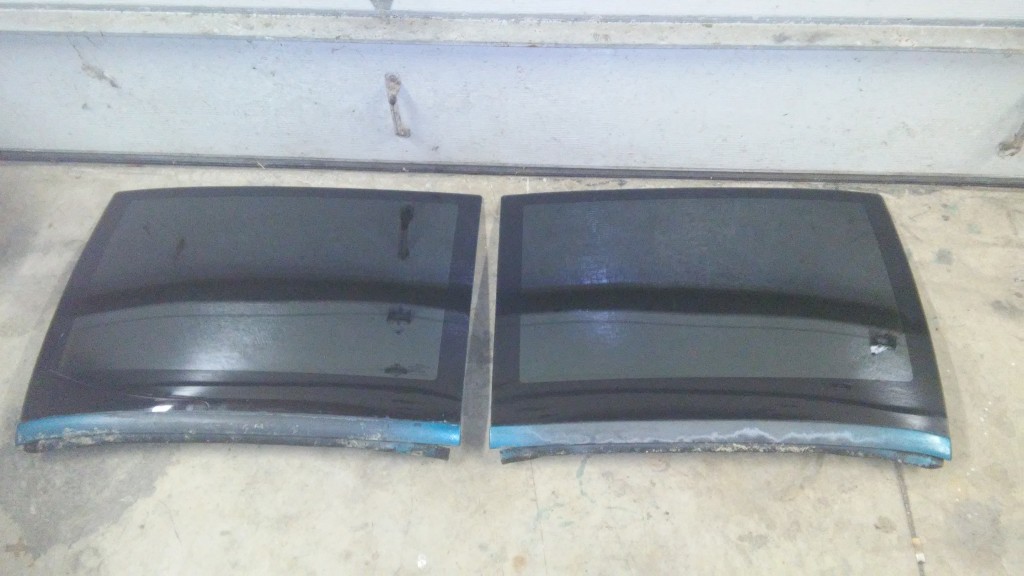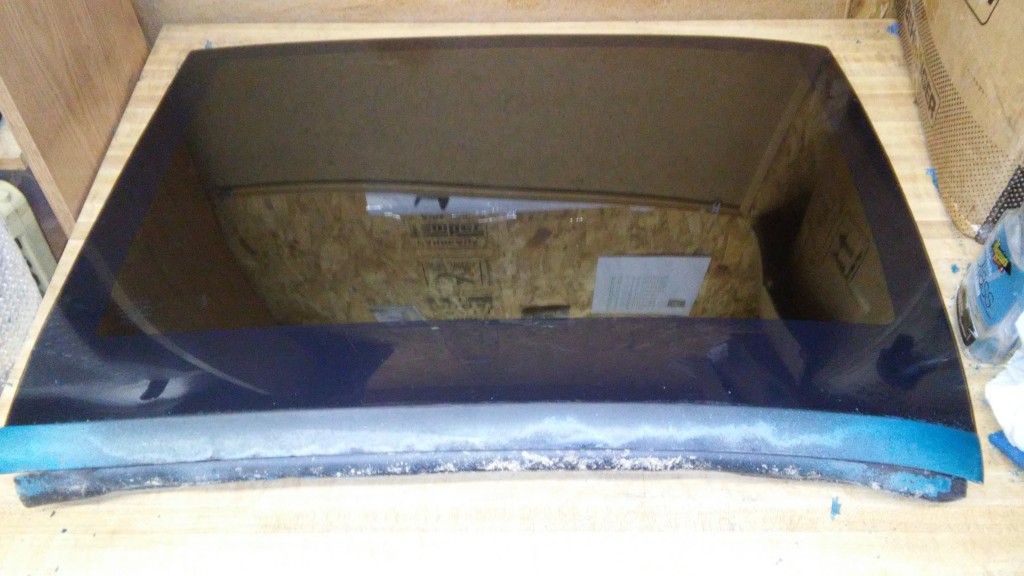 Wonderful! It's a huge improvement. Total time was about 2 hours. The latch mechanisms are also getting easier to work with after being sprayed. This project was well worth the time and I encourage other people to try the same.
December 18, 2015 | Posted in Family | By fastwrecks
Allow me to deviate from all things automotive to tell you about our goats.
Yes, goats.
I spent a great part of the summer working on getting our barn in order and repairing the fence in anticipation of these four beautiful and funny goats. Some friends of ours downsized their farm and wanted to know if we'd take the goats. Uh, twist my arm! I am a huge fan of goats. It's hard to believe that we've had them for almost two months! They add a lot of amusement and cuteness to our place.
When my husband's parents bought this house in 1978, they had kept horses and some other animals here, but there hadn't been any livestock on the property since the last horse left in early 2010. The two acres was kind of lonely without animals…..not to mention the extra yard work that had to be done. Let's just say that yard work is far from my favorite task. I can't walk past a plant with "poison" in the name without breaking out into a rash.
While they don't eat garbage (a huge misconception,) they do eat poison ivy, and that is an equally valuable service. If you think a goat isn't listening to you, try opening the feed sack – they can hear it rustle from a mile away. They love to chat. There may or may not be video evidence of me having conversations with the goats. Goats are very smart animals. I don't know how they knew when I was planning on giving them their regular dewormer, but somehow they figured it out….but stopped caring once I lured them over with a little sweet feed. Talk about bait and switch!
They are also as amusing as the funny goats you see on YouTube.
The plan is to have these guys as a foundation for raising meat goats, which we plan to do next spring. These goats will always be here and will keep any other stock company. (Put the curry powder and the soup pot away.) I find the company of these goats very rewarding. They are much better at posing for pictures than the chickens, and well….did I mention the reduction of yard work?
Goats. I love them.
November 17, 2015 | Posted in Uncategorized | By fastwrecks
In the "odd looking sports cars" category, there is a 2000 Toyota 4Runner sitting in my garage to be parted out. It was wrecked in the front end, and has some dings in the rear, but I'm feeling very thankful that it was driveable enough to drive onto the trailer and then into the shop. It's originally a South Carolina vehicle with very little rust. Desert Dune Pearl with oak cloth interior. Power windows, locks, sunroof, everything. The interior is in great shape.
We picked this up yesterday. After going through and testing all of the electrical items, I took a brief video of it running. I'm in the very beginning stages of tearing this down.
Did I mention that it has very little rust? I'm excited! Tear-down will likely go very quickly.
September 20, 2015 | Posted in Corvettes, Shop Time | By fastwrecks
We're parting out a 1977 Corvette. Lots of useful parts on this one! This one suffered a passenger front corner hit, and then sat in a barn for several years afterward. The front clip is (as expected) a basket case and the interior is rough, but with it having originally been a southern car, doesn't have a whole lot of rust. I'll be listing parts on eBay as they come off the car.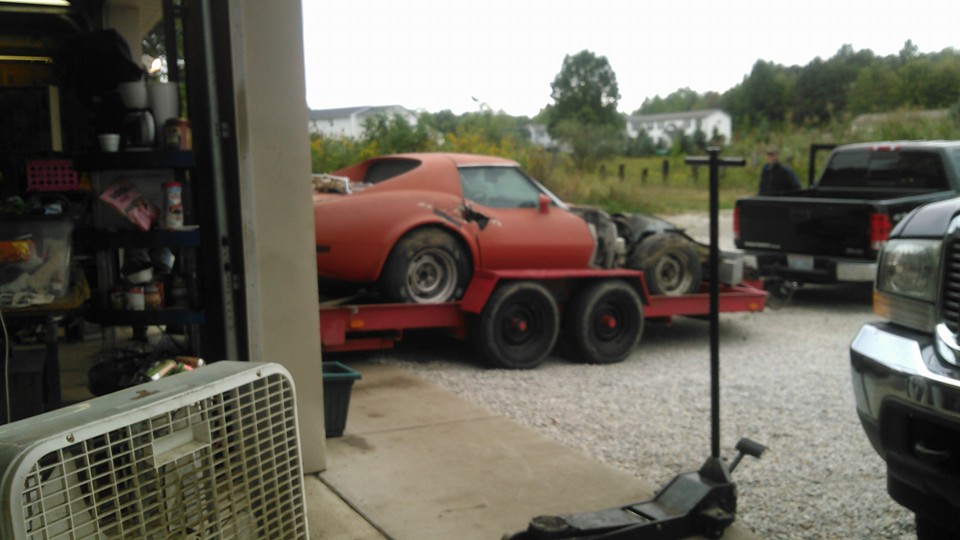 What can I say, my floor jack is oh so thankful that we didn't bring in another 4 wheel drive vehicle or an 18 foot long land yacht. 🙂 While we originally had planned to make this into a restoration project, it had more significant damage that we noticed once we dug into things further.
June 2, 2015 | Posted in Shop Time | By fastwrecks
This past weekend, we had the opportunity to acquire (and start parting out) a 1995 Buick Roadmaster. It has 175,000 miles, power everything, and an interior in great shape. It had an issue with one of the brake lines, the starter, and a front spring, which is why it's in our care now. It has a known good drivetrain, with the Gen 2 LT1 V8, 350 c.i/5.7 / 4L60E / Limited Slip 2.93 rear end.
I've been taking advantage of the unseasonably cool weather and parting out as much as I can. Its 18 foot overall length (in a garage bay 21 feet deep) is another motivator for me to work quickly on it. It's looooooong. On the plus side, I don't need a stepladder to reach anything on it 🙂 So, over the next few days I'll be photographing and listing these items in our eBay store, at http://stores.ebay.com/sportscarsalvage.
May 14, 2015 | Posted in Uncategorized | By fastwrecks
Over the past few months, I've been converting our listings to use the relatively new eBay Hassle Free returns process. The process is virtually automated, with clearly defined choices and policies. Sellers can choose their own automation rules to simplify the process for buyers. Return shipping is tracked, and payment for return shipping depends on the reason for the return. By the end of this year, eBay's Hassle Free Returns should be the de facto returns process. Click here for more: http://pages.ebay.com/buy/hasslefreereturns/
Hassle free returns are available for domestic shipping for most items and allows for protection for both seller and buyer. For our items, a restocking fee may or may not apply, depending on the reason for return. Returns to us must be initiated within 14 calendar days of receipt. Because most of our items are distinct from one another, a refund is our usual method of honoring those returns. It's helpful to us to have a tracked return process, where every step is recorded, plus I have some lead time to locate an exchange, if needed.
Unfortunately, with every process meant to help, there are a minority of people who abuse it. It can take some time to identify one of them, but after selling on eBay for several years, spotting them has become easier. We've contacted eBay on occasion to step in when dealing with an uncooperative customer. Problems we've encountered include people indicating a reason for return other than what is actually intended in order to avoid the restocking fee, people outright refusing to use the returns process, and claiming an item was damaged in shipping when it was not.
The eBay Hassle Free returns process is relatively new, but gaining traction. We are learning alongside buyers and are adapting as needed as we grow the business.