December 3, 2016 | Posted in:Family, Shop Time
….Not parting out another SUV.
After acquiring a series of collections of already parted out vehicles and consignment lots over the past year, I was itching to dust off my large collection of 10mm sockets and wrenches and part something else out.
Enter this 1987 Toyota Supra MK3 A70, which we got shortly before Thanksgiving.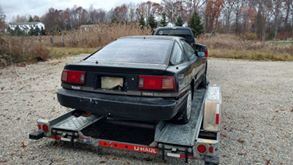 It has a blown motor and had sat for 5 years before we got it to part out. Fortunately, most of the other parts so far appear to be in very good shape. It has a black exterior, gray cloth interior, 180K miles on the drivetrain, and most of the electronics work. It's 90% parted out right now. Our eBay store has a new category for the Supra parts, which I am adding to every day.
2016 has been a very productive year for us, both at home and around the shop. We're hoping that 2017 is even better!
Welcome to Sports Car Salvage. We are a niche hobbyist sports car dismantler located in Northeast Ohio, selling parts for C4 & C5 Corvettes, Mazda Miatas, and other sports and performance cars. We also restore diamonds in the rough. Let us help you with your restoration project.