February 5, 2016 | Posted in Porsche | By fastwrecks
The Toyota 4Runner shell left this garage a little bit before Christmas. It wasn't too long after that that we acquired several new large shelves on wheels. I was able to do some serious organizing and consolidating. I present to you Exhibit A, the empty and clean garage bay.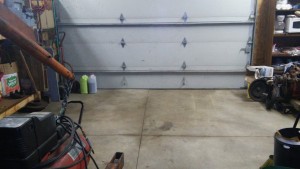 No better time for something completely new to come together, right? We'd finalized a deal to pick up a large lot of Porsche 914 parts shortly after acquiring the 4Runner. The Porsche 914 was a 1970s two-seater roadster made collaboratively by VW and Porsche. Here is an example of what it looks like in nice, running, restored shape. (This is not mine, by the way.)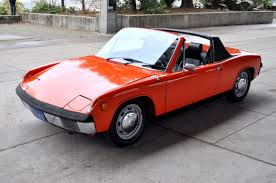 Here is an example of what they look like apart: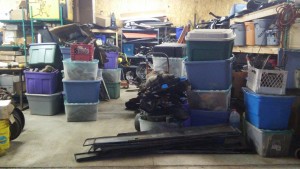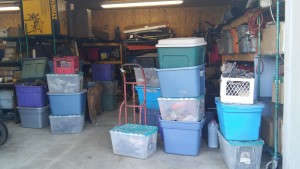 Our most recent Sunday started very early, before the sun came up. I was greeted at our gate by 4 very confused goats who are used to getting their food, water, and goatly love mid-morning. The rest of our day consisted of traveling, loading the truck and trailer, finding a bite to eat, and locating a hotel for the night before heading back Monday morning. The above array of totes and piles of parts filled our truck bed plus a small trailer. Remember the nice clean garage bay from earlier? It is now nearly full. We picked these up this past weekend and have begun listing them on eBay. Believe it or not, this is only a fraction of the parts and there are at least 2 more loads this size. A lot of the parts aren't made anymore, so what is still in circulation is popular with collectors and restorers. Once I've organized, catalogued, and listed what we have, it will be time to get the rest. What a great start to 2016!
September 22, 2013 | Posted in Pontiac, Shipping, Shop Time | By fastwrecks
Here at Sportscar Salvage, we've been busy wrapping up some projects and starting new ones. We happened upon a 1987 Suzuki LTE230H quad in a trade. It will be a fun ride with the right person and a little TLC. I just have other projects in mind right now 🙂
We parted out a 1986 Pontiac Firebird with an automatic transmission and are listing the last of the parts. It had most of the exterior body panels, transmission, interior plastic trims, door hardware, and the T-tops. You can find those Firebird parts here in our eBay store.
All has been going well here. We had some friends over to help re-organize the garage in preparation for this most recent part-out project. Our shipping department got a makeover as well! It's been a big help, especially in getting the larger packages shipped more quickly.
Earlier this month, we had the privilege of delivering an Allied Fiberglass Astra GT kit cat body to a customer in Virginia. Something I love about what we do is being able to supply the things that people have been searching for for months – sometimes even years! Quite a few customers we've had from Australia fall into this category. It was a nice weekend trip, and we even got to visit with a friend on the way.
November 30, 2012 | Posted in Corvettes, Travel Stories | By fastwrecks
Yesterday was very busy and very productive all at the same time. We (yes, three of us in a truck meant for two grown adults) made a big loop across the northern part of Ohio and picked up a few diamonds in the rough. One is a 1974 Corvette for parts that we bought as a donor for our 1977 Corvette restoration project.
The other is a 1985 Mercury Capri. It definitely has possibilities! We have yet to dig into it, but already, people have oohed and aahed from afar. It's one of those cars that people remember because they had one back in the day.
Special thanks to those who helped us out yesterday. As much as I'd like to be Superwoman, a Godzilla-sized cherry picker and ambition from one person only goes so far. I look forward to our new projects and will definitely be keeping everyone posted 🙂
January 14, 2012 | Posted in Humor, Travel Stories, Uncategorized | By fastwrecks
We had, at one point, a 2006 Jeep Liberty CRD. We did our homework and this suited our needs best (at the time,) so, after scouring eBay and dealing with some, ahem, rather "interesting" car dealers in Miami, completed our purchase. It had the fuel mileage and the towing capacity we needed. Sounds easy, right?
Here's a hint: if it were easy, I would not be discussing this in the "funny stories" category.
First of all….Diesel. The diesel Liberty was a rarity. So rare that for the first few months we had the thing, every trip to the gas station was a 3-ring circus. "SIR (or "MA'AM, depending on which one of us was outside,) you are about to put DIESEL FUEL into your Jeep." It was cute the first two times, but every fill-up? By the time it came time to register and plate the thing, I was so sick of hearing about it that our chosen vanity tag was "GRNR DZL." Greener Diesel in short form. Emphasis on DIESEL. To prevent well-meaning but incorrect folks from having heart attacks as I fill up with diesel fuel.
Second of all…..Towing. We did quite a few cross-country trips then, purchasing cars out of state or delivering items via rented trailer. It would have been OK if booking a trailer through Uhaul's website actually worked correctly.
But no. The drop down boxes on the pages wouldn't let me combine Jeep, Liberty, and diesel. To make matters worse, calling Uhaul's 1-800 number was sometimes just as unhelpful. Let's just say that I eat smarmy 20-something guys who think I'm STUPID about cars just because I'm female for breakfast. They taste great with barbecue sauce. ("Of COURSE my Jeep can tow, and don't call me 'ma'am' out of spite. I don't care what your computer system says, I know its specs. I didn't buy something that wouldn't be useful for towing cars. May I PLEASE speak to your supervisor?") I think my personal best (or worst) was speaking to five different representatives before booking my reservation.
We now have a more "typical" ride – a Dodge Ram. A lot of large Corvette parts barely fit in the bed of the truck, so it's more useful on that front. However, the gas mileage leaves a lot to be desired. It's almost enough for me to track down that Liberty, kick myself in the butt for getting rid of it, buy it again, and strap Corvette parts to the roof a la Fred Flintstone and his rack of ribs. Almost.
January 10, 2012 | Posted in Corvettes, Humor, Travel Stories | By fastwrecks
We just got back from a road trip to Texas, where we picked up a recent purchase – a 1984 C4 Corvette. It just so happened that we came back a different way, allowing me to stop by the National Corvette Museum with the '84 in tow.
I finally took it for a drive out in the parking lot of our garage today. Although it probably still has the original shocks (bouncy bounce bounce….) and no power steering, it was actually kind of fun! It doesn't have a dash (in fact, it has a pile of rainbow spaghetti where the dash should be) so I used my musical training in tempo and pitch to shift gears by ear. I'm sure my piano teacher would be proud.
Still not sure if I'm going to restore it or part it out….We shall see.
While I was at the National Corvette Museum, I picked up some goodies to throw into the packages we send out 🙂
December 29, 2011 | Posted in Humor, Travel Stories | By fastwrecks
It was so bad, I almost swore I would never complain of being bored with Mickey D's ever again. Almost.
After several days of traveling, we had BOTH had enough of McDonald's, Burger King, and the like. We settled into our hotel in Georgia, ordered some Chinese takeout from a recommended restaurant, and made plans for the next day. The goal was to get home as fast as possible.
The food. It was underwhelming, at best. I swear, some takeout places purposely skimp on traveling customers in order to save money, and the even "better" ones pretend like nobody speaks English when you offer some constructive criticism. We both got a shrimp dish with approximately 10 broccoli pieces to each shrimp. Shrimp that weren't deveined, even.
What's worse than finding you have a sensitivity to shrimp? Finding it out when over 1,000 miles from home*. Our plans? Hah. The only thing happening quick and snappy were bathroom trips. We only got about 20 miles down the road before we found another hotel to crash in. Forget our usual preference for continental breakfast – the LAST thing either of us wanted to think about was food.
Moral of the story: Some kinds of food are best enjoyed close to home. Chinese, Mexican, and Cracker Barrel are the three I can think of off the top of my head. Oh, that's right, I don't enjoy Cracker Barrel any more, but I'll leave that story to the imagination. It's pretty crappy.
*It's not an issue with peeled and deveined shrimp, just the, ahem, "intact" ones. We eat shrimp quite often at home.
December 21, 2011 | Posted in Humor, Mazda, Travel Stories | By fastwrecks
…Sometimes, it's just a mother.
About three years ago, we went to pick up a Doug Nash 4+3 Corvette transmission from Tennessee. It was actually cheaper for us to pick it up than it would have been to ship to Ohio. (They are quite a bit heavier than a normal transmission.) We thought we'd add some value to our trip by seeing what we could find in the area. Ohio cars, especially older sports cars, can be a bear to deal with because of rust.
So, on that lovely Sunday morning, we consulted the oracle in Craigslist to see what all we could find. What we found in Sunbright, Tennessee, was a first generation Mazda RX-7 in beautiful shape (minus a few bad apex seals) for $400. We called and made arrangements to look at the car, and possibly pick it up.
What we ALSO found is that no Uhaul location even remotely close to Sunbright was open on Sundays. The closest open location was in Georgia. Off to a hardware store commonly known as "Horrible Fright" to purchase a 5,000-lb capacity tow bar. We had seen quite a few people use these without any problem, so we figured it would be more than enough for this RX-7.
We traveled up winding mountain roads up to Sunbright, where we met up with a very nice family looking to sell their RX-7. It was a project they hadn't gotten around to and were more into bikes and such, so the RX-7 was ours. It almost wasn't.
What we do when towing is travel for a block or two, check and adjust everything, go for a few more miles, re-check our load, and then go on our merry way. It can take a few stops to get everything to seat in properly, but after a few adjustments it's usually smooth sailing. The worst I usually have to worry about is a misbehaving ratchet strap. HOWEVER….before we could even find a place to do our first check, we heard an ominous "SCREEEEECH" and a pop while rounding a corner.. Our Horrible Fright tow bar had split at one of the mounts. To make matters worse, we were on a pretty steep slope and the car was dangling. We were not in a very populated area and the closest hardware store was the Horrible Fright we stopped at 20 miles before.
HAAAAAALP!
Lucky for us, the man who sold us the RX-7 had a tow dolly that belonged to his brother in law, and he was nice enough to let us borrow it. He met up with us at the gas station we'd pulled into with along with the RX-7 hanging from one side of our errant tow bar. True to our word, we brought the tow dolly back to Sunbright a week or so after that. Other people's trust and generosity? Awesome. Horrible Fright tow bar fail? Not so awesome. Don't worry, we've already learned to call UHaul *first* before anything else.
October 12, 2011 | Posted in Shipping | By fastwrecks
After my less-than-stellar experience with Lee Ann of FreightQuote.com and problems with that company in general…
I think we found a winner!
We were able to ship our pallet full of C4 Corvette suspension parts to Canada using InternationalTransport.com International Transport specializes in transporting freight overseas. Our customer already had a customs broker in place, so all we had to do was show up to their facility in Cleveland (near Cleveland Hopkins Airport) with our shipment. No hassles. No drama. No jumping through hoops. While there, I also noticed a number of high-performance sports cars that were to be shipped overseas. Depending on the country, importing an American car provides cost and tax advantages. We've shipped a number of C4 Corvette parts to the United Kingdom and elsewhere in Europe. We often sell RX-7 parts to people in Australia who have a hard time finding what they are looking for locally. Our C5 Corvette parts have found their way to satisfied customers in Italy, Japan, Norway, Sweden, and other countries.
SportsCarSalvage.us has always welcomed overseas customers. Most of our items can be shipped overseas, with costs depending on weight and size. Finding a reliable freight carrier will open many avenues for us in dealing with international customers. Each carrier has different weight and size limits, which vary by country. In the past, I have had to decline dealing with customers overseas simply because the product they wanted couldn't be shipped via UPS or FedEx. I am hoping that is a thing of the past. I also anticipate that, as the American economy grows even more underwhelming, we will have a higher proportion of international customers.
March 30, 2011 | Posted in Corvettes, Mazda | By fastwrecks
Greetings! We blogged in a previous post about our 77 Vette project. After buying a donor car with a good front clip, and partnering with a local Corvette restoration enthusiast, this car is going to get a BIG makeover 🙂 She will be restored to the original factory white, plus the interior will be reconditioned. Can't wait to show before and after pictures (you mean, before or after I take that beast all over town? hee hee)
Our next donor car will be another Mazda. A 1990 Mazda Miata, to be exact. That will be picked up early to mid next week and brought back to our shop. It has a running motor and is complete, for the most part, so this definitely has a lot of potential! Speaking of Mazda, we will also be picking up some parts to restore the 1982 Mazda RX-7 we picked up last month. Looks like April is going to be an exciting month for us!
March 10, 2011 | Posted in Family, Humor, Travel Stories | By fastwrecks
After burning up the miles between Akron and Rochester Hills, MI, including a lovely trip down Telegraph Road (US 24) through the western suburbs of the Big Daytwa, we're going to take a few days to have our munchkin up from her mother's place in Dayton.
Lil Bear helps around the shop, swings a mean broom, and thinks all cars should be Barbie Pink (she's 8.something,) and gets emotionally attached to cars. In other words, a little car princess. 🙂
So it's gonna be a chill-out, visit, enjoy loved ones kinda-weekend. We hope you get the chance to do the same!
After the nerve-wracking trip down to Columbus and back to get her, that is. O_O