November 11, 2017 | Posted in Helpful Tips, Mustangs | By fastwrecks
I was just asked how you correctly remove the external rear side vent scoops on a 1994-1998 Ford Mustang. They have threaded studs with nuts that must be removed from the INSIDE. Some models have a plastic clip. You need to access these clips or bolts from inside the rear quarter panel. Either behind the interior trim on a coupe or behind the rear vent windows on the convertible. DO NOT JUST TRY TO PULL THEM OFF! They will BREAK! The 1999-2004 use a plastic clip, but it should still be removed from the inside.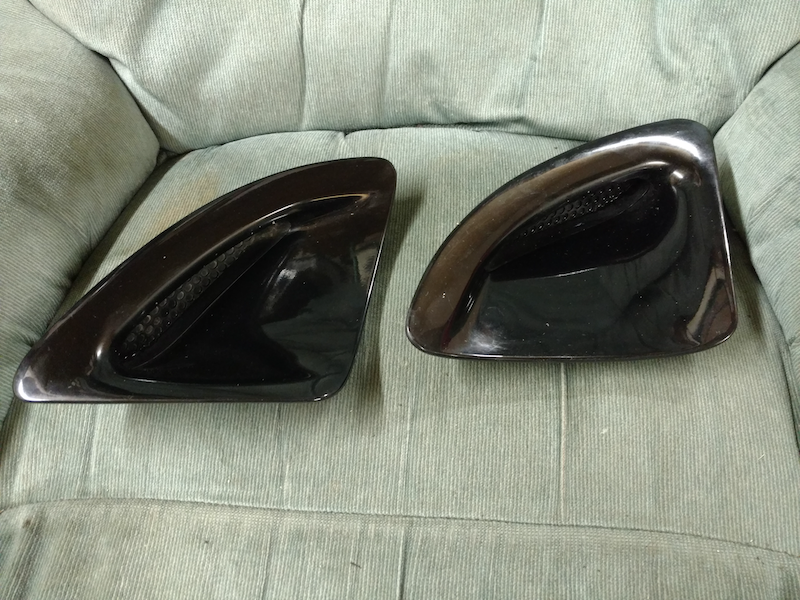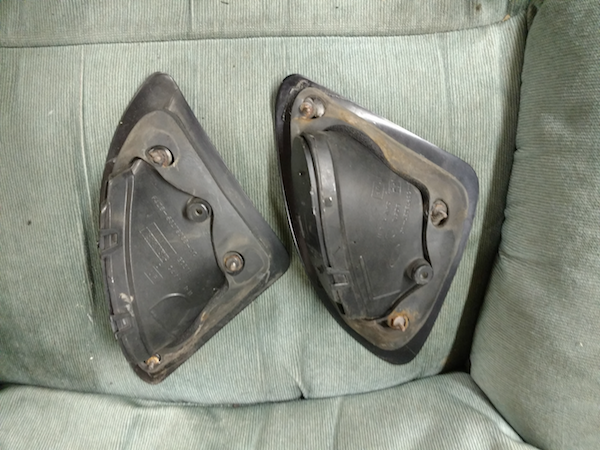 May 16, 2014 | Posted in Mustangs | By fastwrecks
After some initial delays, we took this to a local person who is known for fixing complex wiring issues. What happened is that a previous owner had cut many, many wires under the hood. Good job, Scott! She runs…

We took this to our house to see how it ran. My better half was trying his best to behave with it. I had taken the car for a quick spin around our shop's parking lot before, but even with that, I was pleasantly surprised. The motor in this a drag motor from a 1990 Mustang that a friend of a friend had acquired in a divorce. Here are the specs:
Small Block 302
Headman headers
Aftermarket 4 barrel aluminum intake
Edelbrock 650 cfm 4 bbl carb
Summit Racing starter with a wrap
Unsure of cam
Motor has been converted to serpentine belt
My next project is to get the interior back together. After that, maybe I can entertain the aesthetic suggestions from friends for the exterior…
January 22, 2013 | Posted in Mustangs, Shipping, Shop Time | By fastwrecks
We're almost at 500 positive feedbacks on eBay… At 492, we are so close, yet so far away. Our latest customer bought a PT Cruiser part all the way from Australia! (I promise not to demand koala pictures as payment.)
I finally had a chance to dig into the '85 Capri to see what was there. It was a project that the person we had bought it from started and then ran out of time and money. Sure enough, 99% of the pieces parts we need are already in there, from interior trim to nuts and bolts and the elusive timing cover. Whew! This is a pleasant surprise. I've been working on some Internet marketing stuff over the past few days, but the free heat at the shop is tempting me over there. Especially because it's going to be in the single digits tomorrow again.
I had the chance to discuss entrepreneurship in one of my class assignments. One of our resources was the Entrenpreneur Equation workshop by Carol Roth. She puts to rest a lot of the myths about entrepreneurship. Let's just say that if it were as fun, easy, and glamorous as it's put out there to be, there would be a lot more of us around 🙂 Be your own boss? Sometimes, you have to be your own janitor or exterminator. I can tell you with certainty that nobody – not even the most dedicated gearhead who watches every car-related TV show – loves diamond-in-the-rough barn finds like spiders do. Well, maybe stinging insects run a close second. I joke that the garage decorates itself for Halloween.
January 9, 2013 | Posted in Uncategorized | By fastwrecks
I'm speaking of the 2001 PT Cruiser we parted out last month. 🙂
The last few items are now on eBay. Today, we listed the engine + wiring harness on eBay, plus the starter and alternator. The ECU is being sold separately. You can find all that and more in our eBay store.
I've gotten the last few items off of the 1974 Corvette. Sometime next week, I'll have some assistance in removing the front clip. So, in the meantime, I'll be switching my attention one of two directions – the 2003 Mustang or the 1985 Mercury Capri. I have a couple of different avenues for the Mustang, one of which I will be exploring tomorrow afternoon! Stay tuned.
January 8, 2013 | Posted in Corvettes, Mustangs, Shop Time | By fastwrecks
A lot of folks like to hear what we're up to, and a picture is worth a thousand words, right? In the foreground is a 1974 Corvette we bought to strip the remaining parts off of… It had the two WORKING headlight buckets we needed for our Project77. Behind that is a 1985 Mercury Capri 5.0L. Classic case of started project, ran out of money. Since the car was dealer undercoated, everything underneath is pristine. The original doors and hatch were rusty but the owner had sourced replacements and they came with the car… We got basically everything except for the heads and intake. This one will likely go back together for sale. Too hard to find a nice fox body that is affordable. My husband has some evil plan for it, we'll see. And then WAY in the back is a 2003 Mustang Premium Coupe that was my husband's ex-wife's car. It need a bunch of little stuff. We're doing that stuff and then selling it.
Oh… Husband… Yeah, Jerod and I got married on December 15th after a little over 5 years together. I decided that if I drop a car on my head I want him to be the one to be there to make sure my wishes are respected. Not that I don't love my family, I just KNOW that he will do what *I* want. The same goes in reverse. He's stood by me during this crazy dream, provided finances, countless hours of instruction, and backs me up 100%, all day, every day. He's kinda cute, too.
We're working on getting more items up on the eBay store . We're also actively posting on our Facebook page and we're on twitter as fastwrecks.
We hope all is well for you!