February 24, 2018 | Posted in 1989 Chrysler LeBaron Turbo, Family, Parts Cars, Shop Time, update | By fastwrecks
We know we promised the Chrysler LeBaron parts would be appearing on our eBay store soon, but we had a bit of a farm emergency in that Stormy, our 3 months out Boer buckling, developed pneumonia. We had almost a week of providing care for him including antibiotic and vitamin B complex injections, and close monitoring of him.  We actually had him in the house and at the workshop with us for most of the last week.  He's made a great recovery and we're now starting some deeper work around the shop to get ready to part out that LeBaron.
We'll be taking a couple of days to tear down some old Mustang and other doors we have to post those parts online and clear out the shells, do a bit more cleaning and reorganizing of our workshop and then we should be pulling the LeBaron in by Tuesday to part it out.  It has a strong running 2.2 turbo and builds solid boost, so if you need one, get in touch with us.  You get a much better price buying direct versus waiting for it to be posted online.
Beyond that the goal is to get that torn down quickly, get the parts online, and get up to a pace of one car a month for the rest of 2018.  Make sure you're following us on Facebook @sportscarsalvage and on Twitter @fastwrecks for updates!
Think Spring!
April 20, 2015 | Posted in Uncategorized | By fastwrecks
I'm in between projects now, so I took the time to update our web presence. Facebook, Twitter, our eBay store, the website, even this blog…everything. It was long overdue, and well worth the time I spent teaching myself the skills to do so. (Paying someone to complete the work for me would have cost at least a few hundred dollars.)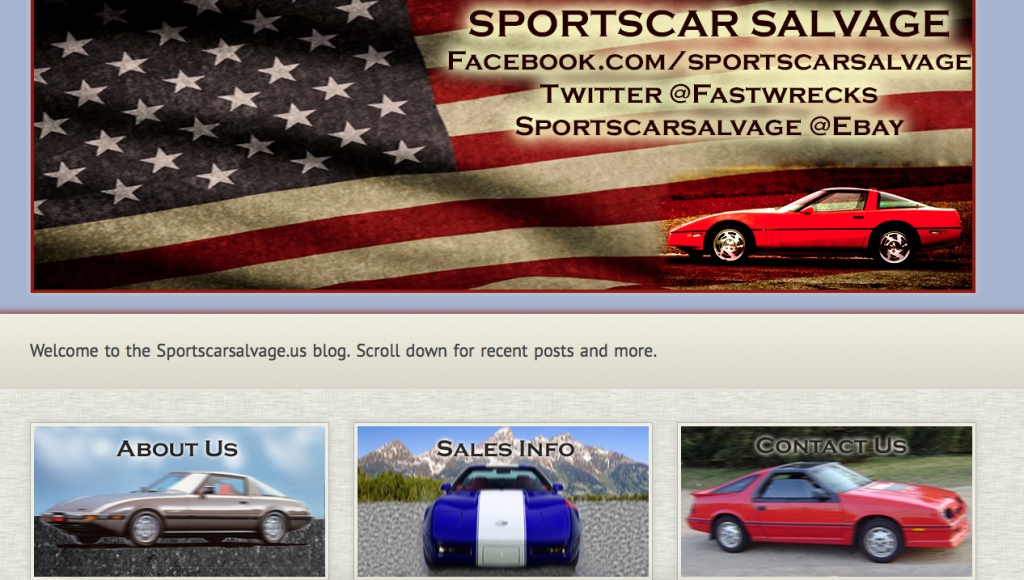 I like it!
April 9, 2013 | Posted in Uncategorized | By fastwrecks
After a seemingly endless winter, I was glad to air out the garage!
One of our recent finds was an Allied Fiberglass Astra GT fiberglass body. Somebody please, please, PLEASE buy this before my husband gets any more evil ideas for projects. Please? 🙂 It's in our eBay store and has quite a few watchers.
We've begun buying parts for our Mercury Capri project. When I started cleaning out the car over the winter, I was pleasantly surprised to find that most of the parts were already in the car. It was a project where its previous owners ran out of money and motivation midway through. I'm sure you've seen a few of these before! We just got a great deal on a rebuilt Mustang engine.
I'd like to offer a warm welcome to our new fans from Home on the Range in Mantua, Ohio and Mike V's Corner. HOTR is running a contest. I not only run Sportscar Salvage, but I also do Internet marketing. My page is here: http://www.facebook.com/MktgMarisa. Here is how to participate:
Like and share this post from Home on the Range.
Like both of my pages on Facebook: http://www.facebook.com/MktgMarisa and http://www.facebook.com/SportscarSalvage
Then, comment on both of those pages, "HOTR sent me."
You could win two brand new in plastic Butler Creek Hot Lips Ruger clear 10/22 25 round magazines. The contest will run until April 15th or when any of the pages hits 1000 'Likes.' Happy participating!
February 10, 2013 | Posted in Humor, Shipping | By fastwrecks
The pizza my husband and I ordered a few nights ago must have been sprinkled with an extra layer of fairy dust, or something. We both had the most off-the-wall dreams.
I joked that day on Facebook that a shrink-wrapped combo of WD-40 and duct tape would be a good giveaway item to include in our outgoing shipments. We make sure to send out a free goodie with each package – Hot Wheels, postcards, cleaning supplies, and other car-related surprises. Some people have commented, both on Facebook and eBay, how tickled they are by what they got. "It's like opening a box of cereal and finding the toy inside!" I love when something so simple makes somebody's day like that.
Cue up my oddball dream…
A father had bought something from us on eBay for his teenaged son, who was working on a project car so it would be ready for him to drive when he was old enough. I thought, "hmmm, a younger guy – I have something with Perry the Platypus on it! I'll throw that in the package. Plus, I have some cute Perry stickers I can put on the box." (For those of you who don't know, I LOVE Perry the Platypus!) But, when I mentioned it in passing to the dad, I found out that his son despised Perry the Platypus and most cartoons, thinking they were too babyish.
Oops! I then made a long and winding trip to this person's hometown, trying to intercept the package before it was delivered. Except it was in one of those towns where everyone looks at you cross-eyed because you're not from there, and even the way you talk rubs people the wrong way. (I've lived in a few of those kinds of places in my life. It truly IS the stuff of nightmares!) I finally found it in at the customer's workplace. It had been delivered before he showed up to work, so I did a quick switcheroo and saved the day. I was hugging the box to my chest when I woke up….to a cat sleeping on my chest.
This is how much I want people to be satisfied with what we ship out. I take as many pictures as I can and add as much detail to the listings as possible. If a problem arises, I also want to find out what I can do to solve it for you. If you ever have any problems, feel free to contact us at any time.
February 14, 2012 | Posted in Corvettes | By fastwrecks
Happy Valentine's Day!
Now that we got the '84 situated in our shop, shipped out an RX-7 engine+transmission, and rearranged our garage, we're ready to pick up our next car…or rather, part of a car. Having a break from one or both of us being sick has helped – it's been a real circus on that front since Christmastime. It's a 1986 Corvette from the firewall back. It has a lot of the interior parts we need for our '84, plus we can sell the extra parts, so it's a win all-around for us.
When *not* doing car stuff, I have been building websites. It's one of my other talents, although practicing my skills *outside* the corporate world is much more rewarding. Check out the following:
The Wistful Cafe
Rusty Nuts Auto Recycling
B&B Recycling
I also am in the process of giving our own website a makeover. I've started on our Sports Car Salvage homepage and have done some work on our eBay store. Then, I will be updating our blog. Fun stuff. 🙂 It's been nice to catch up on nerd stuff 🙂
We sold the 1982 RX-7 that we'd had for sale for a while. The people who bought it had an awful time with their rented car dolly. Fortunately, they were able to drive it home without any major problems after the ratchet straps on the dolly kept coming undone. I feel for them, because we have had some pretty hairy travel stories, many of which are due to equipment failures or just plain crappy supplies.
December 13, 2011 | Posted in Facebook | By fastwrecks
I hope everyone is having a great holiday season so far.
If you follow our Sports Car Salvage Facebook page, you may have seen that we will be giving away two $50 Summit Racing gift cards to two lucky Facebook friends chosen at random. Right now, we have 290 fans and counting.
We would like to thank our fans and customers for supporting us over the past year. It's been a fun yet challenging time of getting things up and running, and we would like to share some of the fruits of our labor. We've also been fortunate enough to buy Christmas gifts for families in our local community.
Looking forward to 2012 and the adventures it will bring!
(Follow us on Facebook or Twitter.)
June 6, 2011 | Posted in Corvettes, Humor, Mazda | By fastwrecks
We're down to 3 parts to remove from the 1990 Miata (Engine/Transmisison, wiring harness and seat belts.)  This means it's time for the 1987 Chevrolet C4 Corvette to be torn down, which has begun.  We're starting to put the parts on our eBay store and are going to get this torn down a wee bit faster than previous cars.  Lots of good parts on this, including the bonnet and hard-to-find passenger right front items.  We'll also be selling the complete suspension and frame with a title and VIN tag for those looking for a project platform!
We've also hit 100 Facebook friends this week, which makes us happy!  If you all would be so kind as to spread the work it'll spread like the old shampoo commercials!
Thanks for your support, folks!
March 13, 2011 | Posted in Uncategorized | By fastwrecks
After making some changes to our SportsCarSalvage eBay store and terms and conditions, we decided it was time to update the listings. Not only will all of our new listings have a fresh new look, but they will also link to our updated eBay terms and conditions page.
But wait, there's more! Check out our latest updates to the SportsCarSalvage Facebook page and our company website.