January 4, 2016 | Posted in Pontiac, Shop Time | By fastwrecks
We came across these T-tops from a third generation (1982-1992) Pontiac Firebird. They had been painted over once upon a time, and had been left in a garage for quite a while. The latch mechanism needed some WD-40, but this paint just….needed to go. It was extremely faded and worn out, especially around the edges.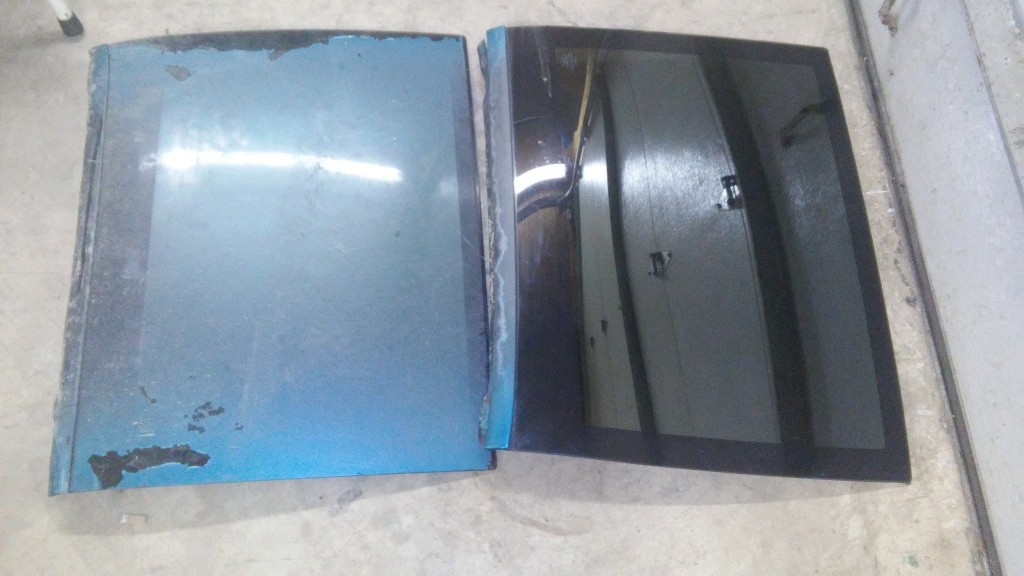 I watched some Youtube videos on how to remove paint from glass. I decided I'd try the razor blade method because I have plenty of those on hand. You won't scratch up the glass doing this! The razor functions similar to an ice scraper. After verifying that the T-tops are actually glass, not acrylic plastic, I sprayed some Goof Off spray on the paint and let it soak in for a few minutes before starting anything. (Side note: some removable tops are made of acrylic. Goof Off specifically says in its instructions not to use it on that kind of material.)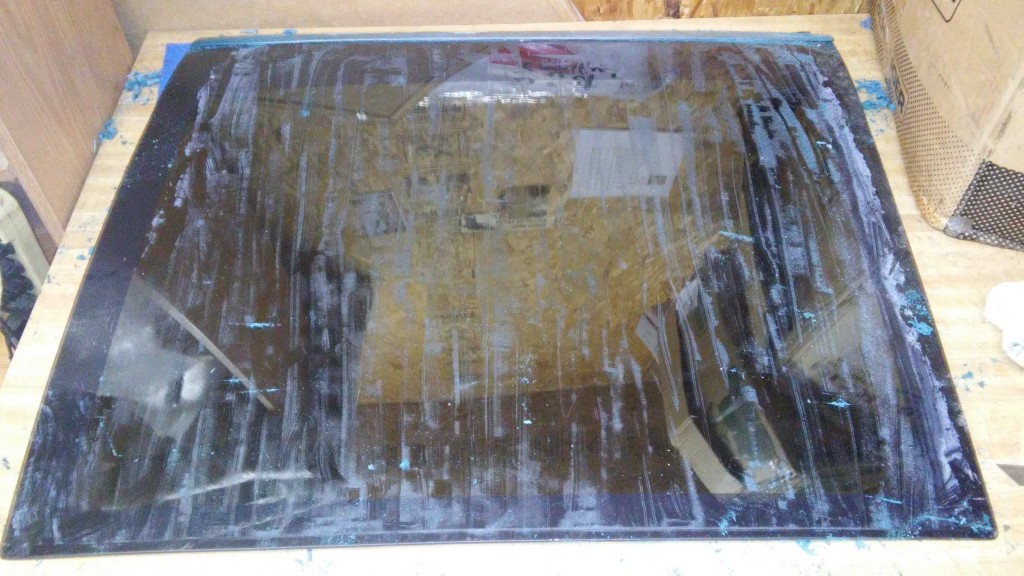 This is after getting the majority of the paint off. At this point, I sprayed some more Goof Off to soak into the white residue. I then took the razor blade and scraped in the opposite direction as I did on the first pass.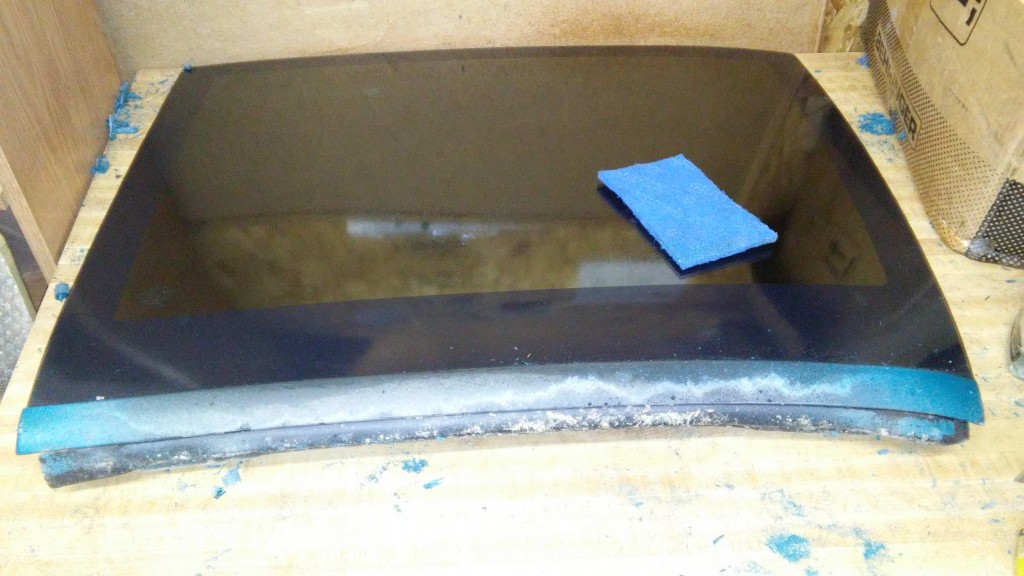 After the second go-round, I cleaned off the glass with glass cleaner to see what was left. At this point, a little Goof Off and blue Scotch Brite removed the little bit that was left.  The photo is not blurry – Goof Off is working its magic.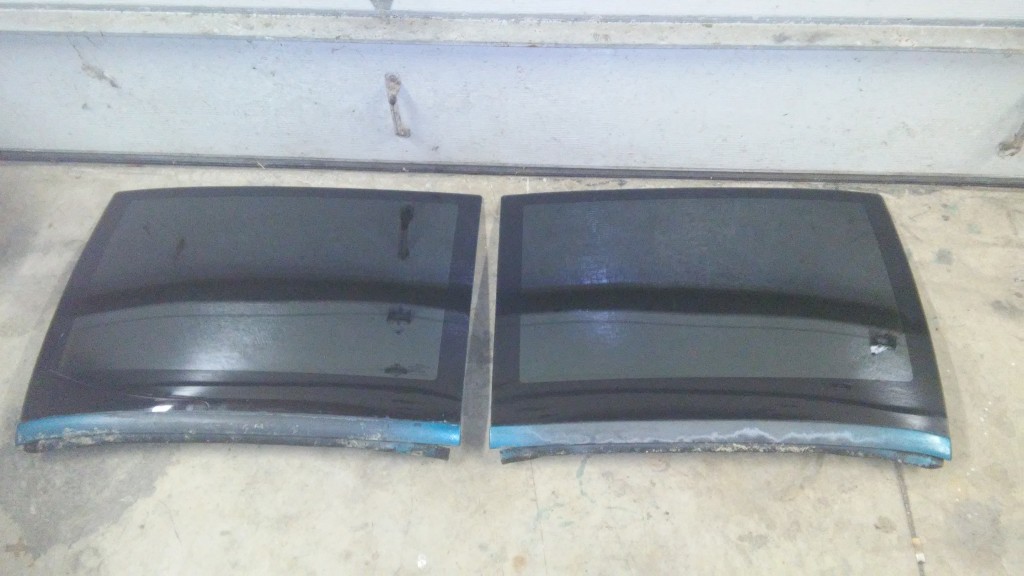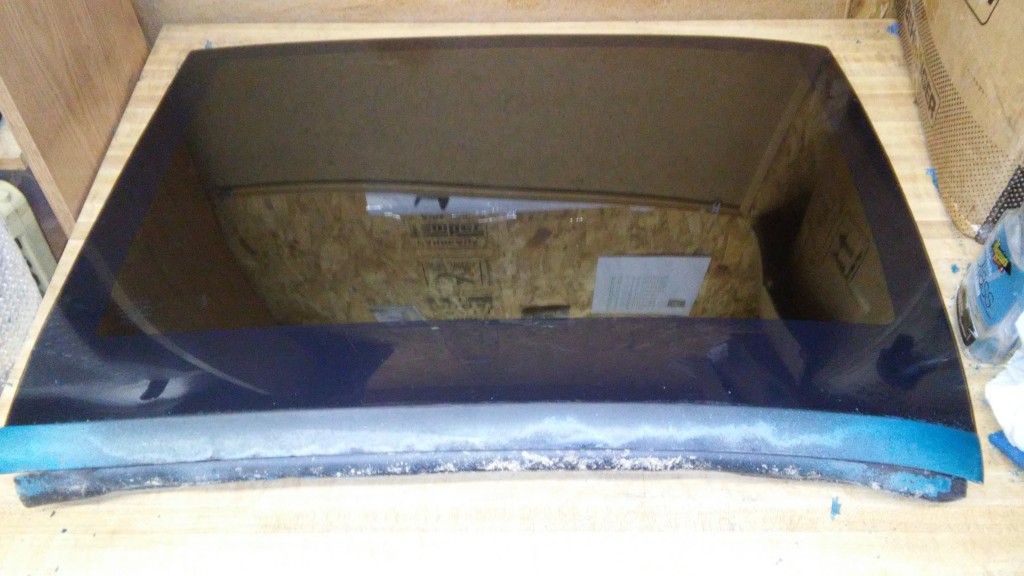 Wonderful! It's a huge improvement. Total time was about 2 hours. The latch mechanisms are also getting easier to work with after being sprayed. This project was well worth the time and I encourage other people to try the same.
September 22, 2013 | Posted in Pontiac, Shipping, Shop Time | By fastwrecks
Here at Sportscar Salvage, we've been busy wrapping up some projects and starting new ones. We happened upon a 1987 Suzuki LTE230H quad in a trade. It will be a fun ride with the right person and a little TLC. I just have other projects in mind right now 🙂
We parted out a 1986 Pontiac Firebird with an automatic transmission and are listing the last of the parts. It had most of the exterior body panels, transmission, interior plastic trims, door hardware, and the T-tops. You can find those Firebird parts here in our eBay store.
All has been going well here. We had some friends over to help re-organize the garage in preparation for this most recent part-out project. Our shipping department got a makeover as well! It's been a big help, especially in getting the larger packages shipped more quickly.
Earlier this month, we had the privilege of delivering an Allied Fiberglass Astra GT kit cat body to a customer in Virginia. Something I love about what we do is being able to supply the things that people have been searching for for months – sometimes even years! Quite a few customers we've had from Australia fall into this category. It was a nice weekend trip, and we even got to visit with a friend on the way.
June 16, 2013 | Posted in Family, Pontiac | By fastwrecks
Here are some shots of the Fiero after mechanical work but before body work. I'd like to wish all of the fathers, step-fathers, grandfathers, and anyone who has assumed a fathering role a Happy Father's Day. Sending love and light to those who are missing Dad today.
September 30, 2011 | Posted in Mazda, Pontiac | By fastwrecks
OK…So we've relisted the RX-7 that has been featured in this blog before – it's on eBay for only a few more hours.
We also have a YouTube video of us driving this car all over the parking lot.

Earlier this week, we picked up a 1985 Pontiac Fiero. Pictures forthcoming after doing a little work on it. I'm currently going over this with rubbing compound to see what I can do with this paint. After installing the fuel pump we bought, and maybe another battery, we'll try it again. Who knows, it might just start up! It was something that the previous owner had moved away from, plus it was taking up room in his driveway, so we found this match made in heaven on Craigslist.
The 1985 RX-7 had some carburetor issues, so we had it rebuilt (Thanks, Ron!) and are now working with the car now that it actually starts. Here's hoping that a few small hose clamps will resolve the vacuum leaks and get things on the right track. EDIT: We got all of the vacuum leaks sorted out and it runs much better now.