September 20, 2015 | Posted in Corvettes, Shop Time | By fastwrecks
We're parting out a 1977 Corvette. Lots of useful parts on this one! This one suffered a passenger front corner hit, and then sat in a barn for several years afterward. The front clip is (as expected) a basket case and the interior is rough, but with it having originally been a southern car, doesn't have a whole lot of rust. I'll be listing parts on eBay as they come off the car.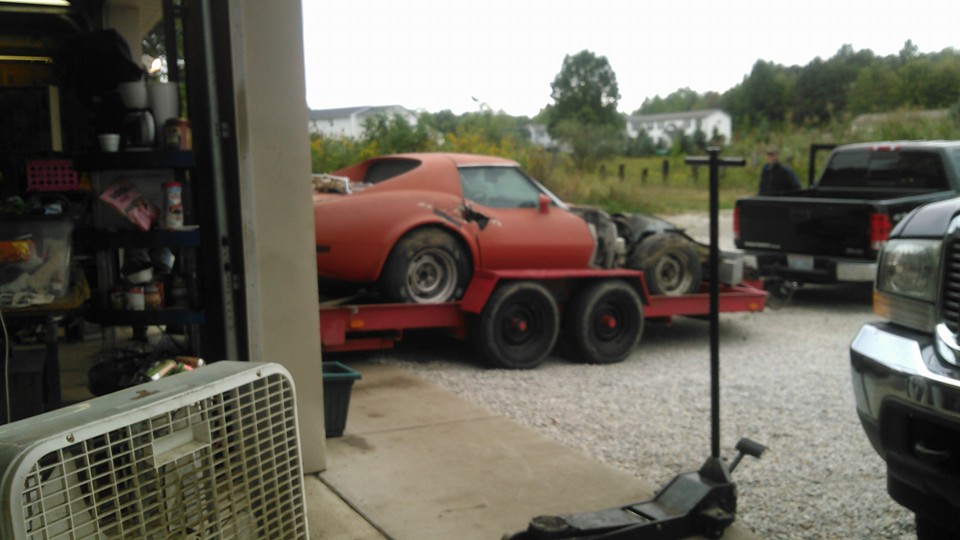 What can I say, my floor jack is oh so thankful that we didn't bring in another 4 wheel drive vehicle or an 18 foot long land yacht. 🙂 While we originally had planned to make this into a restoration project, it had more significant damage that we noticed once we dug into things further.
January 8, 2013 | Posted in Corvettes, Mustangs, Shop Time | By fastwrecks
A lot of folks like to hear what we're up to, and a picture is worth a thousand words, right? In the foreground is a 1974 Corvette we bought to strip the remaining parts off of… It had the two WORKING headlight buckets we needed for our Project77. Behind that is a 1985 Mercury Capri 5.0L. Classic case of started project, ran out of money. Since the car was dealer undercoated, everything underneath is pristine. The original doors and hatch were rusty but the owner had sourced replacements and they came with the car… We got basically everything except for the heads and intake. This one will likely go back together for sale. Too hard to find a nice fox body that is affordable. My husband has some evil plan for it, we'll see. And then WAY in the back is a 2003 Mustang Premium Coupe that was my husband's ex-wife's car. It need a bunch of little stuff. We're doing that stuff and then selling it.
Oh… Husband… Yeah, Jerod and I got married on December 15th after a little over 5 years together. I decided that if I drop a car on my head I want him to be the one to be there to make sure my wishes are respected. Not that I don't love my family, I just KNOW that he will do what *I* want. The same goes in reverse. He's stood by me during this crazy dream, provided finances, countless hours of instruction, and backs me up 100%, all day, every day. He's kinda cute, too.
We're working on getting more items up on the eBay store . We're also actively posting on our Facebook page and we're on twitter as fastwrecks.
We hope all is well for you!
May 3, 2011 | Posted in Corvettes, Mazda | By fastwrecks
We've been busily tearing down the 1990 Miata and getting the parts available for sale… In the process, kinda ignoring our blog, so here's a quick run down of our current projects:
1990 Mazda Miata NA: Being dismantled and sold piece by piece.
1987 Chevrolet Corvette: We had originally thought we were going to put this back together into a runner. Sadly, C4's just aren't worth restoring from this level of disrepair at this time. We're going to dismantle it and get the parts out to people repairing and restoring their cars. It DOES have a fantastic Doug Nash 4+3 transmission, and many other parts which will be sold. We're going to use the engine in another project.
1977 Chevrolet Corvette: The rebuild is in progress and Ron is just about ready to install the front body from our 1978 donor. We're also going to pull the 305 out and install the L98 350 from the 1987 Corvette. Since the TPI was removed by the 87's previous owner, this should yield a nice running 350 for our project C3. We've also decided to return the car to it's original color, RPO 10, Classic White, and the interior will be RPO 64C, which is Buckskin.
1982 Mazda RX-7: This is currently at Schumanns Roadside & Towing to have its new gas tank, fuel lines and fuel pump installed.
We also just picked up a 1991 Jeep Cherokee, theoretically we're going to use it as a shop mule. It fits with what we do, right? After all "The Jeep is America's only real sports car!" – Enzo Ferrari 🙂
Hope all is well with everyone, our thoughts and prayers have been with the people of the Southern US effected by the tornado's and storms.
March 30, 2011 | Posted in Corvettes, Mazda | By fastwrecks
Greetings! We blogged in a previous post about our 77 Vette project. After buying a donor car with a good front clip, and partnering with a local Corvette restoration enthusiast, this car is going to get a BIG makeover 🙂 She will be restored to the original factory white, plus the interior will be reconditioned. Can't wait to show before and after pictures (you mean, before or after I take that beast all over town? hee hee)
Our next donor car will be another Mazda. A 1990 Mazda Miata, to be exact. That will be picked up early to mid next week and brought back to our shop. It has a running motor and is complete, for the most part, so this definitely has a lot of potential! Speaking of Mazda, we will also be picking up some parts to restore the 1982 Mazda RX-7 we picked up last month. Looks like April is going to be an exciting month for us!
February 27, 2011 | Posted in Corvettes | By fastwrecks
After a lot of thinking, debating and chat amongst ourselves and other Corvette folks, we've decided that the 77 C3 is going to go through a light restoration instead of being parted out. It's just too nice.
We purchased a 1978 shell in Detroit and it's going to donate it's front clip to our restoration project. We've yet to pick it up, but that's in the very near future. The 1977 will be repainted to it's factory Code 10 White, with the factory buckskin interior also repaired. Since the car has a 1982 305 (5.0L) motor, it's going to be swapped out for a 350 (5.7L) rebuilt motor with a mild street build to about 350hp.
Stay tuned!
P.S.: Here's a video walk around of the car!
1977 Corvette C3 Walk Around / Start Up.
February 22, 2011 | Posted in Corvettes | By fastwrecks
Now that we know our '77 orange beastie runs, it's time to make it pretty. We'll be picking up another C3 with the front clip and doors we want (plus some other items), and the rest will be listed on eBay. After posting on the Mid America Motorworks Facebook page, we got some pointers on a few things to look for. Very helpful stuff!
In other news, I recently stopped by Summit Racing. (Warning: May be hazardous to your wallet's health.) This was on the same day that we separated all of the transmission and suspension parts from a C5. While waiting in line, their TV featured a guy doing – you guessed it – the same kind of thing. He didn't have a speck of dirt on him OR the floor, nor did he have any scratches on his hands. And they say supermodels are photoshopped!
February 5, 2011 | Posted in Corvettes, Humor | By fastwrecks
Cute Puerto Rican Girl Blows Up A Corvette!
Sometimes the monotony of a simple task can lead to a very funny moment… That was today…
Filling up the tires on the 1977 C3 Corvette, having not relocated a compressor, and a LOT of funny stuff happening today led to this video.